POWER FUEL STRETCHER
---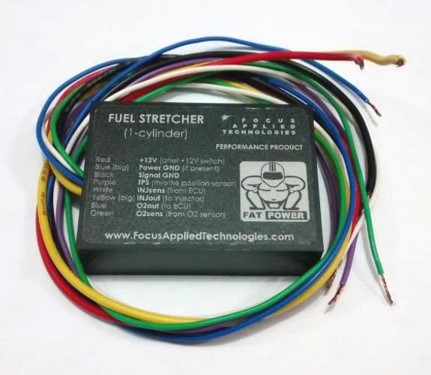 The "Power Strecher" is a "piggy-back" fuel injection controller for streching your injection pulse for more power, while supplying a valid Oxygen Signal to the vehicle's stock Electronic Control Unit (ECU). The unit features a one-click auto calibration and easy to use Graphic User Interface. Tuning is accomplished by a simple "graphic equalizer" type display. Fueling can be decreased by up to 50%, and increased as much as 80%, however typical enrichment are on the order of 5 to 15%.
Our sophisticated system follows the real O2 signal at idle for consistent starting and idling. When adding fuel the O2 signal is made to look stoichiometric so the stock ECU doesn't "undo" the pulse width streching. Additionally you can modify the strech as a function of engine speed. Finally a "boost" sensor can be used to adjust fueling as a function of turbo or super charger boost.
The Power Strecher is available in 1, 2 and 4-cylinder versions. Serial port and Blue Tooth versions are also available. The O2 driving circuitry can handle both Delphi "pumped reference" type O2 sensors as well as the common Zirconia O2 sensors.
Use of the Power Strecher has shown a 10% increase in launch torque, cooler engine operation, and greatly improved drivability. For systems with fuel cut rev limiting, the Strecher can also bypass the Rev limit, allowing you more power at the top end.
FEATURES
Easy Installation
Instant results
Egine run Cooler
More Power!
Smoother Operation
Synthetic O2 Signal keeps ECU happy
Simple setup via Serial Port
Allows performance upgrades to Fuel Injection Vehicles
12V DC,70 x 50 x 20mm