DATA ACQUISITION MODULE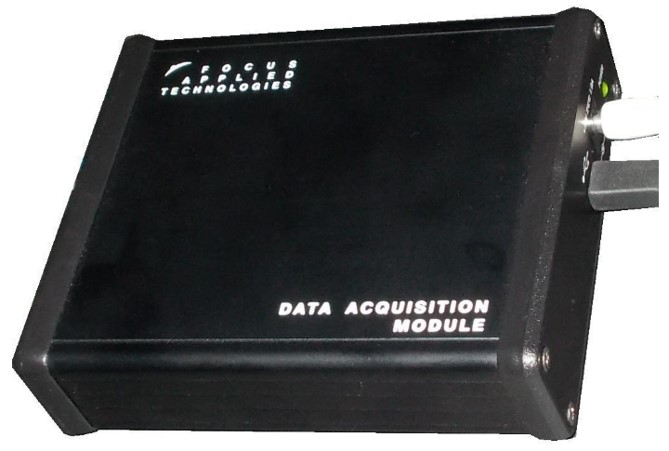 MODEL : DAQ-5
This basic internal Data Acquisition System (DAQ) is a 10 bit low speed system is for reading 0 to 5V analog signals from various sensors commonly used in engine testing such as Thermocouples, Pressure Sensors,Voltages and etc. Several channels are available for this use, and can be displayed and logged to a computer. Some conversion may be required to convert the voltage back into a useful measurement An offset, scaling factor and filtering factor are provided in the Calibration screen of the DAQ Monitor software.
FEATURES
16 Channels
10Hz, 10 Bit logging
Electric Vehicles to 10Kw
2 speed channels
2 Thermocouple inputs
Load Cell Input (4 wire)
2 Thermistor Input Channels
Simple Serial Port Setup
Max and Min peak averaging input channels
Free computer software for Graphic Display
12V DC, 13 x 11 x 3.5 cm
1 year warranty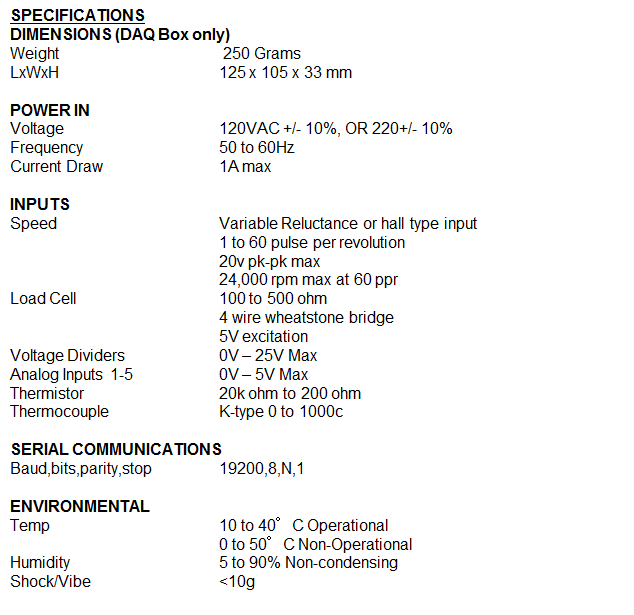 Focus warranties against manufacturer's defects for all of our equipment. Warranty will commence from the date of Delivery.
Focus Applied Technologies strives to provide innovative, technologically advanced ecologically sound products and services to a wide range of end users. Many of our systems contain components, which require routine maintenance and/or replacement. Some of our systems contain separately warrantied sub-systems (eg. pressure sensors in combustion analysis systems, wide band oxygen sensors in Air/Fuel Meters) in which case we pass on the manufacturers warranty. Our warranty policy is designed to insure appropriate quality assurance to our valued customers given the demanding environment of our product development schedule.
Limited Warranty conditions:
The product is covered, under the terms listed herein, for a duration of 1 year from the delivery date.
This warranty covers defects in materials or workmanship, which cause system failure within the warranty period due to normal use.
Focus will repair or replace defective components as required.
Failures due to inappropriate installation and/or maintenance are only covered if Focus is responsible for the installation and maintenance
Separately warrantied sub systems will carry the original manufacturer's warranty. This includes, but is not limited to, the major subsystems such as: Pressure sensor/amplifiers, Wide-Band oxygen sensors and display and similar.
EXCLUSIVE
The warranty is not applicable to:
Damage or loss caused by modification, alteration, repair by any unauthorized party.
Failures of the system caused by inappropriate use, abuse, significant over-speeding, flooding, or excessive Electro Static discharge (eg. lightening strike).
Damage or loss caused by mishandling of the customer or person(s) that has accessed to the Product in the customer's premise.
Damage or loss caused by natural disaster or any other sources beyond Focus's control.
Damage or loss as a result of external bodies.
Damage or loss caused by another device that is connected to the Product.
Damage resulting from accidents, misuse, abuse, tampering or failure of the customer to follow normal operating procedures outlined in the user manual.