O2 SHIFTER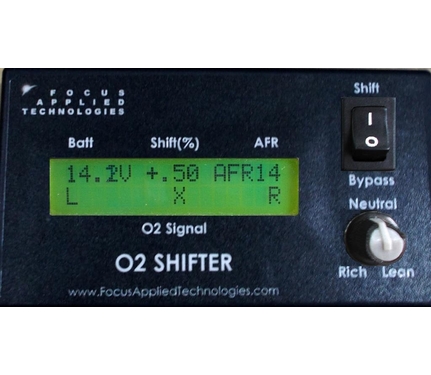 The Oxygen Signal Shifter, or O2 shifter, is a small electronic controller which intercepts the Exhaust Gas Oxygen Sensor Signal from a typical Zirconia type O2 sensor, and modifies it before sending it to the engines fuel injection Controller (the Electronic Control Unit or ECU). Oxygen sensors tell the ECU if the engine is running rich ("high" O2 voltage of ~1V) or lean ("low" O2 voltage of ~0.1V), and the ECU then adjusts fueling to maintain near stoichiometric operation (that is operation at an Air-Fuel Ratio of ~14.7:1). In normal "closed loop" operation the ECU reads the O2 sensor and when it indicates a lean condition the ECU richens the AFR, while when the O2 signal indicates rich operation, the ECU leans out the AFR. The O2 shifter "shifts" or delays either the rich going or the lean going transition. This makes the ECU think the engine is slightly leaner, or richer than it actually is, causing the engine to run richer or leaner respectively.
The O2 shifter allows you to adjust the "shift" for either improved fuel economy (when lean) or improved drive-ability (when rich) with the twist of a single control knob. There is a detent at the middle of the knobs travel for no shift operation. Typical maximum lean to maximum rich shift will result in a 15% difference in fuel consumption, and average operation of about 14.2 to 15.3 AFR. In rich mode launches and shifting is noticeably smoother, while lean operation will save you 7-8% on your fuel bill compared to normal operation.
For popular models the O2 shifter comes with the appropriate O2 wiring harness electrical connectors, and a blue-tooth version is also available.
Focus warranties against manufacturer's defects for all of our equipment. Warranty will commence from the date of Delivery.
Focus Applied Technologies strives to provide innovative, technologically advanced ecologically sound products and services to a wide range of end users. Many of our systems contain components, which require routine maintenance and/or replacement. Some of our systems contain separately warrantied sub-systems (eg. pressure sensors in combustion analysis systems, wide band oxygen sensors in Air/Fuel Meters) in which case we pass on the manufacturers warranty. Our warranty policy is designed to insure appropriate quality assurance to our valued customers given the demanding environment of our product development schedule.
Limited Warranty conditions:
The product is covered, under the terms listed herein, for a duration of 1 year from the delivery date.
This warranty covers defects in materials or workmanship, which cause system failure within the warranty period due to normal use.
Focus will repair or replace defective components as required.
Failures due to inappropriate installation and/or maintenance are only covered if Focus is responsible for the installation and maintenance
Separately warrantied sub systems will carry the original manufacturer's warranty. This includes, but is not limited to, the major subsystems such as: Pressure sensor/amplifiers, Wide-Band oxygen sensors and display and similar.
EXCLUSIVE
The warranty is not applicable to:
Damage or loss caused by modification, alteration, repair by any unauthorized party.
Failures of the system caused by inappropriate use, abuse, significant over-speeding, flooding, or excessive Electro Static discharge (eg. lightening strike).
Damage or loss caused by mishandling of the customer or person(s) that has accessed to the Product in the customer's premise.
Damage or loss caused by natural disaster or any other sources beyond Focus's control.
Damage or loss as a result of external bodies.
Damage or loss caused by another device that is connected to the Product.
Damage resulting from accidents, misuse, abuse, tampering or failure of the customer to follow normal operating procedures outlined in the user manual.