Incoming Tuning Class : EFI using our PS
---
We will be holding a Tuning Class of EFI using our Power Stretcher (PS) on 25th September 2019.
In this interactive, hands-on workshop we cover the basics of Electronic Fuel Injection including explanations of:
Fuel Injector and Fuel Flow
Effects of Injector Opening Time, Fuel Pressure and Battery Voltage
Throttle Body, Throttle Position Signal and Idle Air Control
O2 Sensor Control: What it does, and when is it used
Manifold Air Pressure vs. Throttle Position
Spark Control
To understand and see what's going on with EFI we teach about several tools including:
Oscilloscope
AFR Meter
ODB Reader
Dynamometer
Control and manipulation of these are performed by the participants on bench level EFI setups for hands-on experience. Participants will get a chance to use each of the above tools during the interactive tuning lessons.
We discuss Air Fuel Ratio Numbers in depth, with an analysis of what's the best AFR for scenarios on different vehicles. Next we cover the methods of tuning: road tuning vs. dynamometer tuning.
Finally, we'll cover what tuning is right for different applications, including road going vehicles, high-acceleration track races and drag racers. The advantages of stand alone vs piggy back ECU's will be discussed in depth.
For practical training we will have each participant run an EFI system on the bench, and get familiar with the inputs and mapping of the ECU. Next we'll use a "piggy back" ECU to modify the fuel injection signal and view the results on the oscilloscope as the piggy back is tuned rich and lean.
In the laboratory we will run an EFI bike on the dynamometer and get AFR numbers from the stock ECU. Next we'll connect a piggy back ECU and tune it, showing changes in the AFR, speed, torque and power.
As the number of places is limited, we'll have plenty of time for in-depth question and answers from participants.
---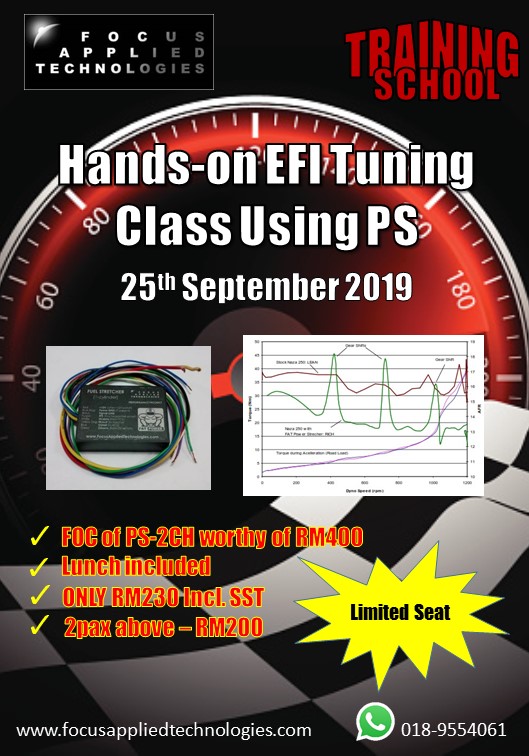 Time : 9:30am - 4:00pm
Venue: Lot 463 Jalan Relau K134, Sungai Kechil Ilir, 14300 Nibong Tebal, Penang
Registration Link :
Reserve your seat!