ELECTRIC VEHICLE BATTERY TEST SYSTEM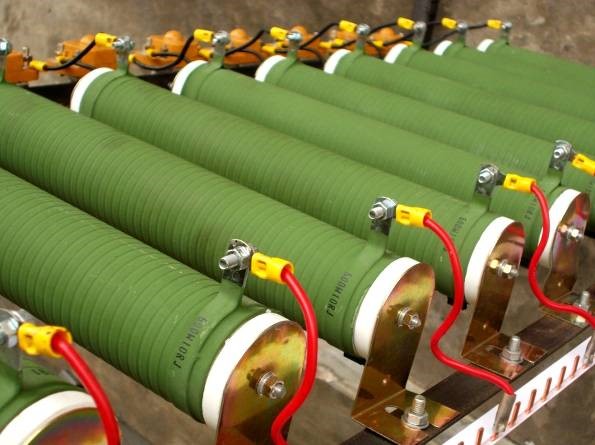 This Battery Life Cycle Tester allows testing of Electric Vehicle Batteries of up to 300A and 300V. Tests can be constant current, or drive-cycle current profiles. Batteries are discharged to the large air-cooled resistor bank until the BMS shuts down, or the battery reaches its designated stop voltage. Battery capacity is calculated continuously. The battery pack is then recharged with the product's native battery charger, incusing proper charging every time. Charging is cycled by stand-alone controller, which continues even after line power interruptions. Data can be logged for analysis, and displayed, or the system can be operated "stand alone" with out a computer present. Accelerated battery testing can also be done, allowing faster testing with the appropriate acceleration factors. The system allows pre-set life pass/fail limits, and Charge Capacity measurement. The single load unit can operate up to 3 separate battery packs simultaneously (one loading while other two are in charging modes).
Features:
Continuous currents of up to 150A
Voltage of up to 300V
200mA Current Control Resolution
Automated Tester operates "Stand Alone"
Automatically continues after power glitch
Free computer software for Graphic Display
1 Year Warranty Included
A large resistive load bank is connected to the discharging battery via contactors, and/or power transistors. The transistors adjust the duty cycle to maintain constant current even as battery terminal voltage drops. Battery capacity is calculated by integrating the current over time of the test. End of test can be defined by a number of cycles (eg. 300 or 1500), battery capacity, or % degradation of battery capacity. After discharging battery is connected to charger while another battery pack is discharged (if running multiple battery packs). Data can be displayed and monitored via computer, or the system can operate alone.

The Electric Vehicle Battery Test System is used to measure the batteries charge capacity under controlled loads. The battery is tested together with the BMS and charger as a single system to characterize the systems longevity in terms of charge/discharge cycles. Charger and Battery Charging current can be measured for Charger and Charge/Discharge efficiency calculations. As the charging time is longer than the discharge time, a single load unit can be used with up to 4 different battery packs simultaneously. Only one battery pack is discharged, while the others are either being charged, or in a "high" or "low" dwell period.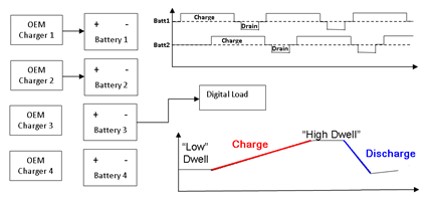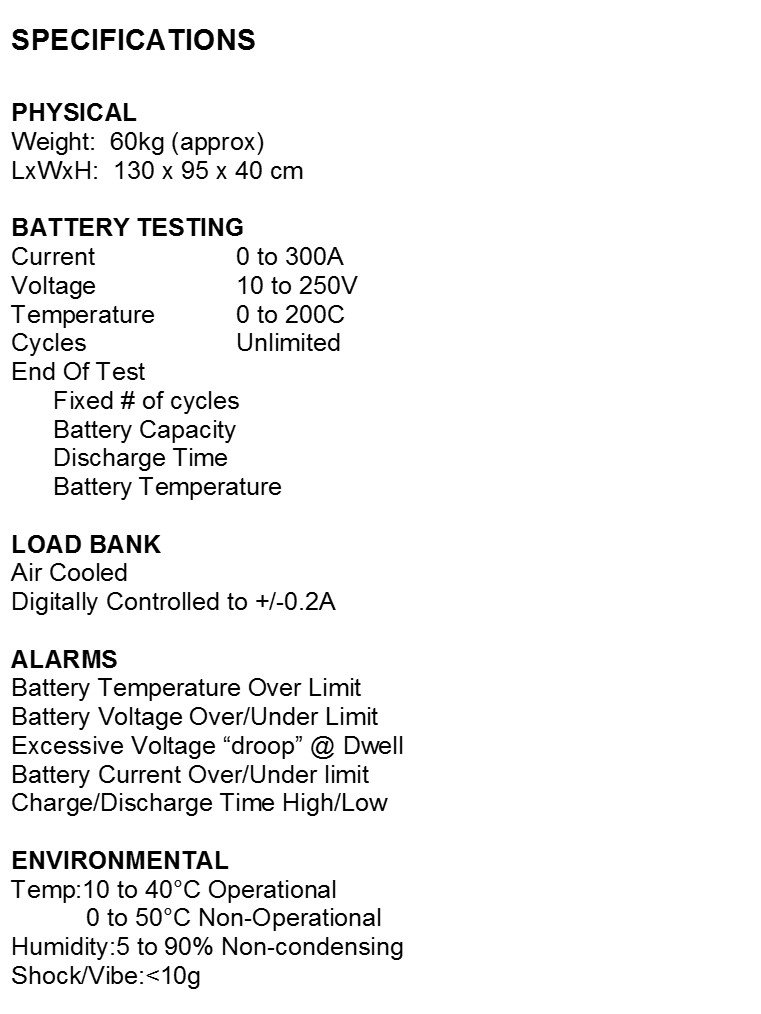 Focus warranties against manufacturer's defects for all of our equipment. Warranty will commence from the date of Delivery.
Focus Applied Technologies strives to provide innovative, technologically advanced ecologically sound products and services to a wide range of end users. Many of our systems contain components, which require routine maintenance and/or replacement. Some of our systems contain separately warrantied sub-systems (eg. pressure sensors in combustion analysis systems, wide band oxygen sensors in Air/Fuel Meters) in which case we pass on the manufacturers warranty. Our warranty policy is designed to insure appropriate quality assurance to our valued customers given the demanding environment of our product development schedule.
Limited Warranty conditions:
The product is covered, under the terms listed herein, for a duration of 1 year from the delivery date.
This warranty covers defects in materials or workmanship, which cause system failure within the warranty period due to normal use.
Focus will repair or replace defective components as required.
Failures due to inappropriate installation and/or maintenance are only covered if Focus is responsible for the installation and maintenance
Separately warrantied sub systems will carry the original manufacturer's warranty. This includes, but is not limited to, the major subsystems such as: Pressure sensor/amplifiers, Wide-Band oxygen sensors and display and similar.
EXCLUSIVE
The warranty is not applicable to:
Damage or loss caused by modification, alteration, repair by any unauthorized party.
Failures of the system caused by inappropriate use, abuse, significant over-speeding, flooding, or excessive Electro Static discharge (eg. lightening strike).
Damage or loss caused by mishandling of the customer or person(s) that has accessed to the Product in the customer's premise.
Damage or loss caused by natural disaster or any other sources beyond Focus's control.
Damage or loss as a result of external bodies.
Damage or loss caused by another device that is connected to the Product.
Damage resulting from accidents, misuse, abuse, tampering or failure of the customer to follow normal operating procedures outlined in the user manual.